Stop! Scammer Time!
Ooh, what's this!? $2550 for a wedding retainer? Schweeeet!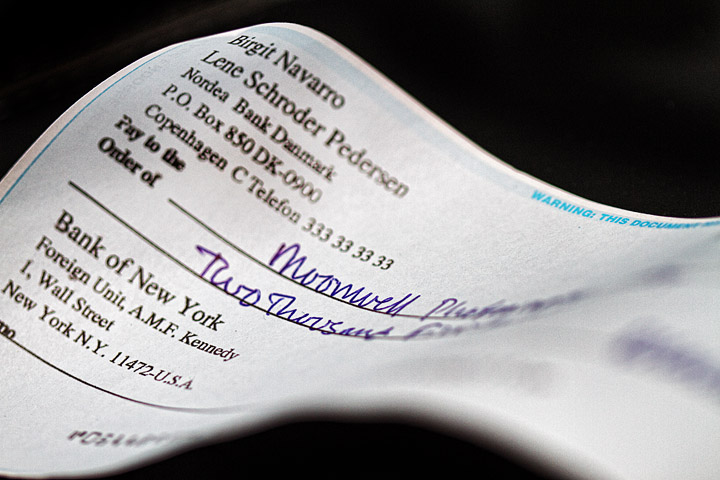 I received a lovely email from "Anderson Williams" back towards the beginning of the month, requesting more info on my wedding packages.  Even stumbling through his message early in the morning, even before my eyes had been completely pealed open, I could smell the fishiness after reading just the first sentence.
Here's Anderson's initial email… enough to make any high-school English teacher proud.
Hello,
My name is Anderson Williams,i live in iowa(USA).I am presently in London(UK)but probably will be moving back home soon and i'll be getting married shortly after my arrival in the states to my fiance Misty Daniel.We will need a wedding/party Photographer to help us in making up our ceremony from the church to the hotel reception.We will like to find out what your plans are for March 27th,2010.This is the date of our wedding so kindly let us know your availability for this day.We'll take responsibility for your expenses regarding our plans.we might not be able to meet you soon as planned,due to our unavailability in the states but,we are willing to retain the date, that's to make deposit for booking prior we to our arrival to be sure we are interested in your service,if we really are.Waiting to get your response.
Anderson Williams and Misty Daniel
Oh, OK.  This fine chap is a native Iowan living in the UK, who is eager to return to the corn to wed Misty, his lovely bride.  Would generally make me feel all warm & fuzzy inside.  So, what's the problem, aside from the bang-up grammar?  Well, Mr. Williams' IP address resolves to Nigeria!  Yeah, that oh-so-popular popular West-African honeymoon destination. Maybe he just has some awesome wi-fi connection he's picking up in the quaint English pub he's sending his emails from… Wireless 802.1!x.. range 2500 miles!
I decide to play along…
Over the course of the next couple days, we exchange emails and settle on a package that will suit Anderson's nuptial needs. He agrees to have his people in the states mail the required retainer to secure his date.
Everything sounds good to us,we are comfortable with the requested amount to do the job for four hours,please keep in close contact to your email as we will always keep you updated as plan goes and this is the most convenient way we can contact you now until we speak on the phone when we return home.Also, we want you to know that we are having two locations for the wedding, that's from the church to the reception,as soon as we have the wedding locations we will have the full information sent to you for future reference

Payment will be made to you inform of US Cashier's Check,we will need you to e-mail your full informations(name,address and phone number) and i will instruct my office to make out the payment to you.Take care
January 20, the payment is set to arrive via Fedex…
My office contacted me now saying the payment has been sent out to you,here is the fedex tracking number of the payment….. 793188937709. There was a big mistake made by the remitter in my office,i was told that it was the whole of my money that was mistakenly issued out to you. I actually instructed my office to make out payment to you and the band boys that will perform on that day,but the remitter in our office went ahead and issued the whole money to you only.

We'll mostly need your help at the moment when you receive the payment,Kindly take out the whole of your money for the Photography and forward the remaining to the band,the band boys information where you will forward the balance of the money shall be given to you after you have confirm that you receive payment.Pls,e-mail us immedaitely you received the payment for confirmation purpose and let's know if this message gets to you.Stay blessed
Anderson Williams and Misty Daniel
What, your peeps mistakenly wrote out the check for way too much money!? Honest mistake.  Sure, I'd be glad to pay your band boys before the money has cleared by account!
But, wait! Fedex actually catches the scam before it gets to me! Still confuses me how the package originated in Michigan, but was returned to Tennesee.
Is the scam now dead in the water!?
Never fear! Nigerians are obviously a resourceful bunch.  Try, try again.
My office contacted me now and made me realised that the problem with the mail has been resolved and the payment will be delivered to you shortly.As i had told you earlier that my office made me undersatood that Clearance has been given to the Check sent to you and you can just get it Cashed imediately at your bank,you will have to take out the whole of your money for the photography on our wedding day and forward the remaining to the band boys that will perform on that day.Just e-mail us immediately you received the payment today for confirmation purpose.Stay blessed
This package actually made it all the way! Package originated from Florida this time. So, this guy is from Iowa, living in the UK, shipping packages from Florida drawn on a New York account with a Copenhagen home address.  Makes perfect sense! Wonder how many people they've got working for them here in the states.
The check obviously won't be deposited.  It will bounce a week or two after depositing, long after I have supposedly wired the extra money to the band (which is actually back to him). Doesn't appear that turning it over to the feds will do any good either, since these scams still run so rampant, they must somehow be above the law over there.
This scam is commonly referred to as the Nigerian 419 scam, and is typically run on people selling crap on craigslist ebay, etc.  Apparently they've found the wedding photographer market is ripe for the pickin as well.
Any fun ideas on how to mess with guy now?
Be careful out there, guys!